Titanic cellist's descendant sings in Bristol concert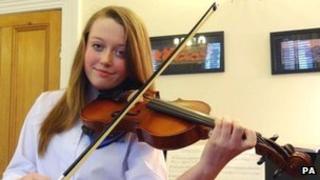 A teenager related to the cellist who "played on" while the Titanic sank has performed 100 years after the event.
Charlotte Woodward, 13, discovered last year that her great-great-great-uncle was in the band which performed on the ship's deck while it sank.
She sang in a choir for a remembrance concert, taking place in Bristol, 100 years after the night the luxury liner hit an iceberg.
John Wesley Woodward, 32, was among the 1,512 people who died on 15 April 1912.
'Loved playing'
Witness accounts reveal the eight band members made no attempt to get on a lifeboat but chose to continue playing to calm the crowd.
"I think it's very inspirational and I'm quite proud of what he did," said Ms Woodward, who plays the violin and piano and has singing lessons.
"It's said that he was a very thorough and conscientious musician.
"Their instruments were the closest things to them and I think they loved playing so much that they just thought that they'd like to spend their last minutes doing what they loved."
Bristol composer David Bedford, who died last October, wrote The Wreck Of The Titanic which was performed at Colston Hall in the city.
It features hundreds of young musicians who are all taught by the Bristol Arts and Music Service.
Onboard musician
Ms Woodward added: "It's really cool to be involved, knowing my own great-great-great-uncle was the man who was playing the cello on the deck as the ship sank.
"If I could, I'd like to learn to play the cello now after hearing the news, but I think I'll stick with the violin for now."
John Wesley Woodward joined the Titanic as an onboard musician in 1909 after serving on a number of other liners.
The Woodward family only found out about the link last year after being contacted by author Steve Turner who was writing a book about the band's tragic story.