North Somerset Council will switch off more street lights to save money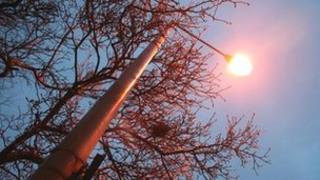 Hundreds more street lamps will be switched off in North Somerset, as the authority tries to save around £300,000 a year.
Congresbury, Yatton, Claverham and Cleeve will see fewer lights between midnight and 05:00 GMT in the winter and 01:00 BST and dawn in the summer.
North Somerset Council said lights will remain on in areas with traffic hazards or high levels of crime.
Around 14,200 lights will be turned off, with a further 2,500 being dimmed.
It means around 80% of the street lights in the area will either be part night-lit or dimmed.
"We are only switching off those street lights owned by us," said council spokesman Nick Yates.
"In the Yatton area we are planning to switch off 345 street lights, 202 in Congresbury and in Cleeve, five."
All council-run street lights in the small village of Claverham will be switched off during the phased scheme.
In total around 80% of the street lights in North Somerset will either be part night lit or dimmed.
Mr Yates added that trials had shown that "levels of crime and numbers of traffic accidents do not increase" when the measures have been introduced.
He said all roads will have a safety review carried out before any lights are switched off and they would consider any concerns which are raised.
North Somerset Council has to make savings of £47m by 2015. Last year it turned off lights in towns including Clevedon and Portishead.
Legally there is no statutory requirement for local authorities in the UK to provide public lighting.