Firm says council blocked Tropicana proposals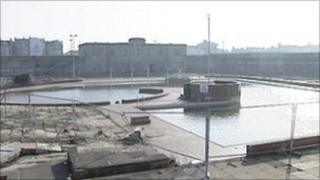 The firm behind a planned revamp of a seaside attraction in Weston-super-Mare has accused a council of deliberately blocking the scheme.
Trop (WsM) Ltd wanted to develop the Tropicana site but the plan was rejected by North Somerset Council.
The firm said an independent assessment of its scheme was "inaccurate" and contained "several misinterpretations".
The council said it would "challenge" some of the claims but did not want a "tit-for-tat" argument in the media.
A spokesman said: "We are disappointed by the continued belligerent attitude of Trop (WsM) Ltd.
"We would certainly challenge some of the statements they are making."
Earlier in the week, the council rejected the plan saying it was over-ambitious and depended too heavily on external grants.
Conclusions 'flawed'
But Trop (WsM) Ltd said it was prevented from talking to the accountants assessing their financial plan resulting in "misinterpretations".
"These could have been explained by further communication during the review process, but as it is this has resulted in the clarity of the report and its conclusions being flawed," said Derek Mead, from Trop (WsM) Ltd.
The firm has declared its intention to seek a judicial review of the council's intention to knock down the building.
A decision to proceed with demolition would be made finally by the secretary of state.
Mr Mead claimed his firm had "overwhelming backing" from residents and that its business plan showed a "viable proposal".
He added that Trop (WsM) would continue with its legal action while there was no possibility of further talks with the council.
Since the resort closed in 2000, several attempts have been made to revamp the site but all of them have failed.