South West Chief Prosecutor to target hate crimes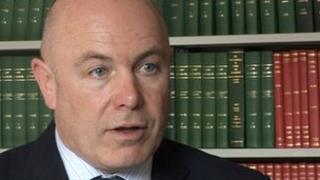 The leading Crown lawyer in the South West has pledged to prosecute all cases of hate crime brought to him.
Chief Prosecutor Barry Hughes says it is the job of police and prosecutors to instil confidence in victims by showing them cases are dealt with successfully.
He also wants community pressure groups to help make people aware hate crime is unacceptable.
The region has the highest prosecution success rate in England at 83.5%.
He said: "Hate crime is damaging, it's corrosive. We want the public to know we will support victims."
Central to his campaign is a determination not to downgrade hate crimes to ensure a conviction on a lesser charge.
"There have been times when prosecutors have chosen different ways to pursue a case rather than the sometimes difficult to establish racial motivation or hatred motivated through dislike of disability," said Mr Hughes.
"Sometimes we might take a plea to a type of offending on the basis that we don't reflect the hatred aspect which would increase the sentence.
"We would be wrong to do so where there's evidence to put before the court and in the right circumstances we should seek to argue it before the court."
One of the toughest challenges for Mr Hughes' team is to get victims to come forward and report hate crime.
"We have cases where victims of consistent persecution by thugs find themselves unable to leave their homes because of the fear they'll be picked on for the colour of their skin or because they speak in a way people may find a little strange and they're mocked for it," said Mr Hughes.
"It's harder to prosecute these cases than to prosecute what one might see as the normal run of crime.
'Particularly difficult'
"Because the people have been picked on for their personal characteristics, they are often unable to present their evidence in the same way that somebody without their disabilities in particular might be able to do.
"Sometimes victims of racist crime find it particularly difficult to come to court because they are in such a minority that they feel that they wont be afforded the same support that the majority of the population will have."
Patricia Songu was waiting for a bus to collect her son from school in south Bristol when she was targeted by a young man and woman. She was first racially abused and then attacked.
"I bent my head down to secure my face and they were hitting me on my back, on my neck. I asked them what have I done to you? They said: 'Black woman get out of here. You must not stay here.'"
Mrs Songu praised the police for the way they responded to the attack.
She was also helped by Support Against Racist Incidents who organised a taxi to take her son to school when she was too afraid to leave the house.
Since the attack she has suffered from neck and back pain and has lost her job as a support worker.
She also feels more vulnerable than before and stays away from any events where she feels being black may make her a target for further hatred.
"I feel like I am not really important in the community, as a black person," she said.
Two teenagers were prosecuted and given community service orders for the attack on Mrs Songu.