Berkeley power station's nuclear boiler recycling begins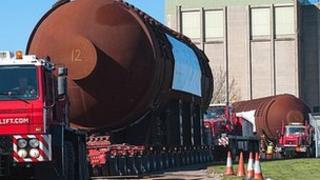 Work has begun to dismantle five giant steel boilers from the decommissioned Magnox Berkeley power station in Gloucestershire.
The 300-tonne, 21m-long (69ft) vessels were shipped to Sweden for recycling by specialists Studsvik.
The firm was awarded an £8m contract for five of the 15 heat exchangers at Berkeley, which ceased electricity production in 1989.
Up to 90% of the recycled material will be be put on the Swedish metal market.
The other 10% will be sent to the UK's Low Level Waste Repository in Cumbria, a spokesman said.
The boilers were transported by road to Avonmouth Docks in North Somerset, before being shipped to Studsvik's processing facility near Nyköping in Sweden, where they arrived on 6 April.
Earlier reports on the BBC news website suggested four of the five boilers from the Berkeley station were still to be shipped to Sweden, but it has since been confirmed the last boiler was sent on 30 March.