Campaigners sign petition to reopen Saltford Station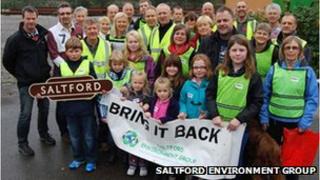 More than 2,000 people have signed a petition calling for one of the West's railway stations to be reopened.
Saltford Station, near Keynsham, closed in 1970 and the buildings and platforms were demolished.
But campaigners have said plans to electrify the Great Western Main Line from London to Cardiff would make the station viable again.
The petition will be handed to Jacob Rees-Mogg, the Conservative MP for North East Somerset.
He will then present it to the House of Commons.
"The reason for wanting the station to be open is that it's very near to both Bath and Bristol," he said.
"It would be very convenient for people to commute and the roads, particularly the A4, are very crowded.
"So reopening it would be highly beneficial for the people of Saltford and for the general economy."
'Going to happen'
In a recent poll, Saltford Environment Group (SEG) found 65% of respondents supported the reopening of the station, which was built in 1841.
"It's going to happen, it's just a matter of when," said Chris Warren from SEG, leader of the Saltford Station Campaign .
"We've identified over 300 daily users who said they would use the station, either travelling to Bristol or into Bath, or beyond.
"Saltford is right in the middle of an Area of Outstanding Natural Beauty, we would pick up a lot of passengers.
"The crucial thing is we've got the Bath Spa University campus just over a mile away. That's 5,000 students going in and out. It would be great for them as well."
'Commercially viable'
In an open letter, Richard Bidgood, president of the Students' Union at Bath Spa University, said he too supported the Saltford Station Campaign.
"Opening the station could create an opportunity for a bus route between the station and the university which could offer a commercially viable income stream to a provider promoting sustainable transport," he added.
"This would in turn allow access to cheaper accommodation outside of Bath for staff and students and offer part of a solution to the lack of supply of affordable housing in Bath."
In a statement, SEG said it wanted a "simply built, basic railway station with two platforms" which could cost in the region of £2m to £4m.
The group said a single platform design, costing around £0.5m, would also be suitable. The track, signalling, bridge and land are already still in place.
If funding was agreed, SEG said the station could be back in service within five years.