New section of Strawberry Line route opens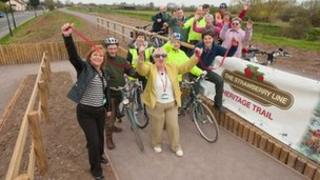 A new 350m section of the Strawberry Line bike and walking path costing £30,000 has opened in Somerset.
The new section, made with 75 tonnes of local Mendip dust and 60 tonnes of top soil offers a safe route to avoid part of the A370 at Congresbury.
The route follows part of the old Cheddar Valley railway.
The railway closed in the 1960s and was nicknamed the Strawberry Line because it transported tonnes of the fruit from local farms for more than a century.
The route is part of the National Cycle Network.