Bristol council bid to evict derelict baths 'squatters'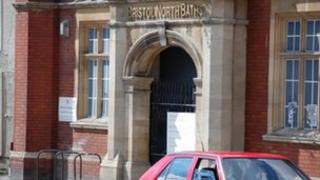 A former Bristol swimming pool where building work is due to start in May has been taken over by squatters, the city council has said.
The group is occupying the old Bristol North Baths which is to be converted into a community health centre.
Recession Bristol denied it was using the building as a squat and said it planned to host a series of community events there before the redevelopment.
The council has applied for a court order to remove the group.
A pharmacy, hydrotherapy suite, housing and a new library for Bishopston are also going to be built on the Gloucester Road site.
'Pick up tools'
A Bristol City Council spokesman said both the local authority and Chatsworth Homes were "aware of the illegal presence of squatters".
"The council has applied for a court order to seek their removal," he said.
"Neither the city council nor Chatsworth Homes have given permission for the group to be in the building."
But one member of the group, called Rhiannon, said the developers had given them permission to use the building.
She said: "We just want to use these buildings for a community purpose until that time that developers do start their work.
"They're aware we're here and have given us a certain amount of time to get some exhibitions going and then, when they give us notice to leave before they start work, then we will happily pick up tools and get on with it."