Bristol City Ashton Vale stadium judicial review date set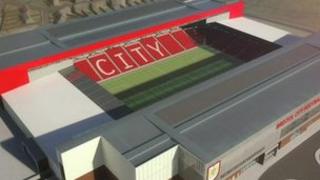 A date has been set for a judicial review which could block Bristol City Football Club's plan to build its new stadium at Ashton Vale.
The club was granted planning permission for the development in October 2009, but protesters want the land designated as a town green.
The one-day High Court hearing will be held in London on 14 June.
The club, which described the judicial review as "anti-business", wants to build a 30,000-seater stadium.
An independent inspector backed a town green application by protesters in 2010, but Bristol City Council went against her advice.
This prompted the application for a judicial review.