Marshal idea for new Bristol Rovers stadium parking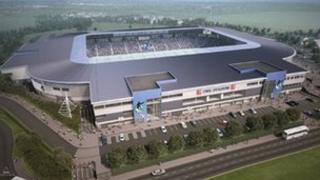 Traffic marshals would be employed to stop parking in residential areas close to a proposed new football stadium, documents have revealed.
Bristol Rovers wants to build a new 20,000-seater ground close to the University of the West of England.
But many of the objections to the scheme are from residents of nearby Cheswick Village who claim the area would be used for matchday parking.
A crowd control document said marshals would be used in the village.
They would be deployed two hours before matches begin and for one hour after they have finished.
"Traffic marshals will be employed solely for the purposes of directing parking control within the vicinity of the stadium and in particular deterring this," the club said.
Marshals would also be used to deter parking on nearby Long Down Avenue.
'Vetting cars'
But one objection to South Gloucestershire Council claimed this could cause more problems.
"Stadium traffic compounded with wardens stopping to vet cars will gridlock residential access annoying residents and their genuine visitors," said the resident.
"Saturation will dissuade fans from parking at the official car parks, favouring residential streets elsewhere."
Additional security measures could also be employed at the entrance to the neighbouring Hewlett Packard site.
The computer firm has sought reassurances about the stadium plan saying it could potentially be a "bad neighbour".
More than 1,100 letters of support have been sent to South Gloucestershire Council since the planning application for the stadium was lodged.
About 100 objections have also been sent to the council.
Meanwhile, South Gloucestershire Council has revealed that a site visit of the planning committee which will decide whether to grant permission for the stadium will take place on 11 May.