Bristol's Cheswick Village academy secures sponsorship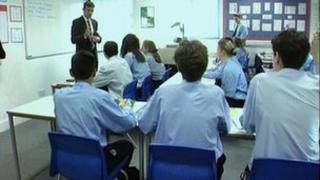 A new primary school academy being built on a development near Bristol is to be sponsored by educational charity the Cabot Learning Federation (CLF).
The district's first new academy will offer 420 places to families moving into the Cheswick Village development near Filton.
CLF, with the University of the West of England (UWE), will oversee the academy's development and operation.
The school is expected to be operational from September 2013.
Sheila Cook, South Gloucestershire Council's executive member for children and young people, said CLF had an "excellent track record in delivering high-quality education".
"I am sure that, in partnership with UWE, they will make sure the new school is a resounding success," she said.
David Carter, CLF executive principal, said: "We will have four primary academies in CLF and this latest addition to the federation is a very welcome development."
Construction work began on the new Cheswick Village development, which will have 700 homes, in 2008 and is expected to be completed by 2016.