Bristol City Council: No defence to Ashton Vale stadium challenge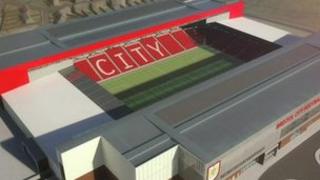 A council has abandoned its defence to a legal challenge about the future of land where Bristol City Football Club wants to build a £92m stadium.
It granted the club planning permission in October 2009, but protesters want the land designated as a town green.
A judicial review which could have blocked the plan was planned for June.
Bristol City Council said it wanted to avoid a big legal bill but campaigners said the review could only be ended with the consent of both sides.
Campaigners said they were only told of the council's decision on Friday and are yet to decide what course of action to take.
If the campaigners do not agree to end the legal action it could still be forced to a court hearing.
If the case is ended or the campaigners win the judicial review it will mean the decision over the town green would have to be made again.
An independent inspector backed a town green application by protesters in 2010, but Bristol City Council went against her advice.
'Saddened and frustrated'
The council's public rights of way committee decided on a "split-site" - an attempt at a compromise by allowing the club to build on one half of the 42-acre site and allowing the rest of the land to become a town green.
But this prompted the application for a judicial review.
Peter Abraham, who chairs the cross-part committee, said that by pulling out now the authority could also avoid further delays.
"What we are saying now is if you want an independent inspector to come and look at it again, let's go down that road," he said.
"I have been saddened and frustrated that the decision of my cross-party committee of elected councillors has been challenged in a seemingly never-ending series of legal challenges.
"This is all the more disappointing as our decision preserved indefinitely 20 acres of land for local people to use as recreational open space, whilst leaving the other half of the land (including the former tip) free for development.
"Although a High Court judge in an earlier hearing urged compromise, it is very disappointing that those concerned have preferred instead to run up ever-growing lawyers' bills - many of which will ultimately be carried by the taxpayer.
"I support this pragmatic decision today so as to begin to draw a line under this matter."