Tropicana demolition plans resubmitted by council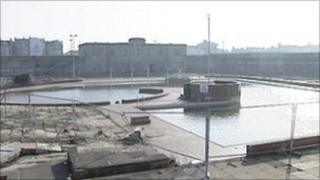 A businessman who wants to redevelop Weston-super-Mare's Tropicana says he has forced the local authority to resubmit plans for its demolition.
North Somerset Council wants to tear the sea front pool down following a number of attempts to revamp the site.
Trop (WsM) Ltd has sought a judicial review of the council's intention to knock down the 1930s building.
The council said it was contesting the judicial review and admits no fault with its original application.
A spokesman for the Conservative-controlled council said: "The new application is a duplicate of the one previously submitted which is currently with the secretary of state.
'Leisure complex'
"The duplicate has been submitted to ensure that, if the secretary of state grants consent for the application currently before him and the judicial review is not withdrawn, we will have a second consent to implement without the uncertainty of a judicial review hanging over it."
In April Trop (WsM) Ltd commissioned a report looking into the viability of turning the building into a leisure complex.
But North Somerset Council rejected the idea concluding the report findings were not viable, over-ambitious and depended too heavily on external grants.
A Trop (WsM) Ltd spokesman said the council failed to consult properly before voting earlier this year to pull down the disused building.
"The council's decision to restart the planning process represents a significant victory for his group," he added.
The building, which enjoyed its heyday in the 1960s, has been empty since 2000.