Bristol Liberal Democrats elect Simon Cook as leader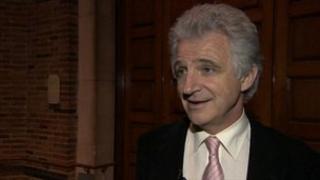 Bristol's Liberal Democrats have appointed a new leader.
Councillor Simon Cook succeeds Barbara Janke who announced last month she was stepping down after 14 years as leader of the group.
Mr Cook saw off a challenge from Councillor Jon Rogers who will be his deputy.
If approved by the full council next Tuesday, Mr Cook will run the local authority until the elections for a mayor in November.
Last week Bristol voted in favour of an elected mayor to replace the council cabinet.
'Lame duck'
Mr Cook said: "As far as we're concerned going into the next six months it's business as usual.
"You can't have a city like this stop... key decisions have to be taken and we're very prepared to take that on.
"The mayor, when he or she comes in, can look at some of these decisions and I would hope that there won't be a great upset."
But the leader of the Labour group, Peter Hammond, said: "The danger is it will be a sort of lame duck leadership and that would be quite a serious problem for Bristol."
Mr Hammond, who has faced down a challenge for the leadership of his own group by his deputy Mark Bradshaw, said: "I think there's quite a strong argument I suppose for (the leader) not taking too many really significant decisions - highly controversial political decisions - that might get overturned.
"If that was the case we'd back to the old argument about instability in Bristol politics."
One of the big decisions Mr Cook will face before November is how many of Bristol's council-run care homes to close. The decision is currently due to be taken in July.
Ms Janke was leader of the council for nearly seven years and announced her decision to stand down as she approached her 65th birthday.