FantastiRep calls for reptile home checks to be made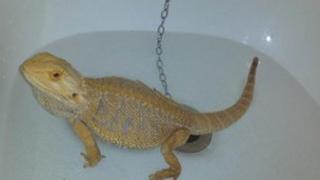 People who buy certain types of exotic animals in shops should have to undergo home checks, a woman who runs a re-homing service has said.
Sally Reed, from FantastiRep Bristol, said she had seen an increase in the number of bearded dragons coming to her in the past few years.
She said people were not researching the animals before they bought them.
Ms Reed believes that when someone goes to a pet shop they should be "vetted and have home checks".
She currently has more than 30 reptile breeds which have been given to her.
Local licences
Some exotic animals are classed as dangerous wild animals, for which licences are needed to keep and breed them.
Professional breeders currently require licences from their local council.
Nick Wilburn, of FantastiRep, said: "Some amateur breeders don't care where the animals go they just care about profit."
Mr Wilburn added that forced breeding could put them in severe danger and the safety of the reptile should always be put first.