Warhol sketch displayed to public for first time at Bristol gallery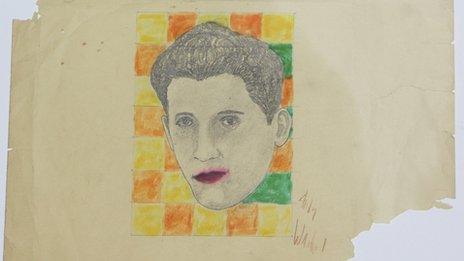 An Andy Warhol portrait that was discovered two years ago is to be shown to the public for the first time.
The sketch of 1930s singer Rudy Vallee was among a batch of paintings bought by Andy Fields, from Tiverton in Devon, in Las Vegas in 2010.
It is thought Warhol drew it when he was ill with chorea at the age of 11.
It will be displayed at the Royal West of England Academy (RWA) in Bristol as part of an Avon and Somerset police art competition exhibition.
Businessman Mr Fields paid $5 (£3) for the five paintings in Las Vegas in 2010.
When he decided to reframe one of the paintings he found the sketch hidden behind it.
A RWA spokesman said the pencil drawing had been valued at £1.25m ($2m).
Drawn on a piece of paper, the spokesman said it was "full of the pop art motifs we have now come to recognise, including Warhol's signature bright red lips, made using lipstick, and a typically pop art blocked background, coloured with green and orange felt-tip pen".
Trystan Hawkins, director of the RWA, said: "Warhol's work is known the world over, and represents a seismic shift in the history of art.
"With the benefit of hindsight, viewing this portrait allows us to see the beginnings of one of the greatest art movements.
"The opportunity to show Warhol's earliest work at the RWA is a world first, and we thank Andy Fields for giving us this chance to make it possible for the public to come and see a Warhol in Bristol."
The Clean Slate Art Competition exhibition features artwork from youngsters aged from 13 to 19, created as part of Avon and Somerset Constabulary's youth engagement work.
It is due to run at the RWA from 3-28 July.
Related Internet Links
The BBC is not responsible for the content of external sites.