Store plans for Bristol Rovers' Memorial Stadium submitted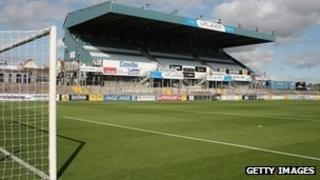 A planning application to develop a supermarket on the site of a football stadium in Bristol has been submitted to the city council.
The authority confirmed it had received the application to develop Bristol Rovers' Memorial Stadium in Horfield into a Sainsbury's store.
The football club is planning a move to a new stadium close to the University of the West of England (UWE).
A Bristol City Council spokeswoman said it would now check the application.
If the application is "valid" it will be published on the council website next week, she added.
A spokesman for Sainsbury's said it had made changes to initial proposals following a consultation in January.
Traffic impact
The changes include a ban on vehicle access in Alton Road, extra commercial units being replaced by an open space and the height of apartments being reduced from four to three storeys.
The plans will be available to view at the Memorial Stadium on Saturday, 19 May.
Ben Littman from Sainsbury's said: "Some expressed concern about how it could potentially impact on traffic congestion, noise and light disturbance and how it may affect retailers along the top half of Gloucester Road.
"We believe that the changes we have made will address many of the concerns that people have raised."
Neighbouring South Gloucestershire Council is currently considering the planning application for a 20,000-seater stadium next to UWE.
The authority has had more than 1,000 letters supporting the proposal and almost 100 objecting to the development.