Shrien Dewani to be tried 'when mentally fit', court told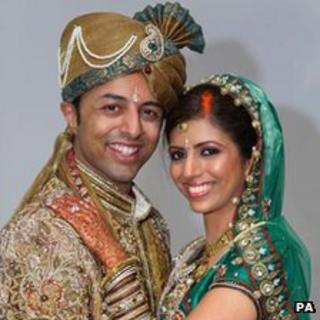 Shrien Dewani will stand trial for allegedly arranging the murder of his wife Anni when he is mentally fit, a South African court has been told.
Mr Dewani, 32, denies any involvement in the killing of his wife, who was shot in Cape Town, in November 2010.
The Bristol care home owner is said to be suffering from severe post-traumatic stress disorder and depression.
A pre-trial hearing of two men accused of murdering Mrs Dewani was postponed on Friday.
Judge Andre le Grange, sitting at the Western Cape High Court, ordered Xolile Mngeni and Mziwamadoda Qwabe, to appear next Friday.
Mrs Dewani, 28, from Sweden, was shot when a taxi in which the couple were travelling was hijacked in the Gugulethu township.
Legal aid
Mr Mngeni and Mr Qwabe face charges of kidnapping, robbery with aggravating circumstances, murder, and two counts relating to the illegal possession of a firearm and ammunition.
Mr Dewani faces charges of murder, conspiracy to commit murder, robbery with aggravating circumstances and obstructing the administration of justice.
The case was previously postponed on 20 April because Mr Qwabe said he could no longer afford his previous lawyer and had to apply for legal aid.
The hearing was again postponed earlier to give Mr Qwabe's new lawyer time to receive instructions.
Mr Mngeni's lawyer Matthews Dayimani was absent because he was stuck in traffic, but the judge proceeded without him.
He previously told the court that his client was not psychologically fit to stand trial because of a brain tumour.
The judge asked if there was a third accused who should be on the court roll, referring to Mr Dewani.
He was told that the state will add him as an accused only when he is mentally fit.
Mr Dewani has fought extradition, arguing he is too unwell to face trial.
In August last year, a judge sitting in London ruled that Mr Dewani could be extradited to South Africa to stand trial but that decision was reversed at the High Court.
It means the process will begin again after it was ruled the case should be remitted back to Westminster Magistrates' Court for a further hearing.
Taxi driver Zola Tongo, from Bothasig, Cape Town, has been jailed for 18 years for murder, kidnapping, robbery with aggravating circumstances and perverting the course of justice.
A trial date for Mr Mngeni and Mr Qwabe was set for 30 July.