New vicar for Thornbury parish after murder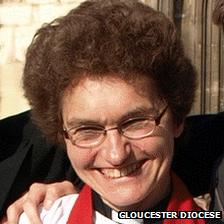 A new vicar has been appointed for Thornbury to replace the Reverend John Suddards who was found stabbed to death at his vicarage in February.
The Reverend Dr Jan van der Lely, who is currently an assistant curate in Cirencester, is to start in September.
Dr van der Lely said it was "a great honour" to be called to serve as vicar for Thornbury, Oldbury and Shepperdine.
She said it was a testament to people's courage and resilience that they had appointed their new vicar so soon.
"It is a great honour to be called to serve... especially following the recent tragic events," she said.
"I am very much looking forward to living and working with them, and to getting to know the local community."
Speaking of the appointment, Bishop of Gloucester the Right Reverend Michael Perham said he and representatives from the parish were all agreed that Dr van der Lely had the right qualities for the post.
"Her experience before and since ordination will both be a resource to her as she leads the benefice into a new phase," he added.
Mr Suddards, 59, was found stabbed to death at his vicarage in Thornbury, near Bristol, on 14 February.
He had taken up the post last July, having come from the Diocese of Chelmsford in Essex.
Stephen Farrow, 47, is accused of murdering Mr Suddards and Betty Yates, 77, from Bewdley in Worcestershire.
Mr Farrow, of no fixed address, remains in custody and is due to appear before Bristol Crown Court on 29 June.
Related Internet Links
The BBC is not responsible for the content of external sites.