Simon Cook appointed as new Bristol City Council leader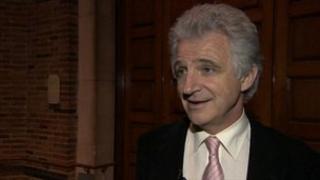 The last leader of Bristol City Council before the city is run by an elected mayor has been appointed.
Liberal Democrat Simon Cook will lead the authority until the mayoral elections in November.
He succeeds Barbara Janke who announced last month she was stepping down after 14 years as leader of the group.
Mr Cook's election was unopposed at Tuesday's council meeting. He said it was a "momentous period" in Bristol's history.
"This will be a difficult period, but I am confident that with co-operation across the council there will be a smooth transition and the elected mayor will take over a council in good shape," Mr Cook told councillors.
On 3 May, Bristol voted in favour of an elected mayor to replace the council cabinet.
One of the big decisions Mr Cook will face before November is how many of Bristol's council-run care homes to close. The decision is currently due to be taken in July.
Ms Janke was leader of the council for nearly seven years and announced her decision to stand down as she approached her 65th birthday.