London 2012: Former paralympian carries Olympic torch in Bristol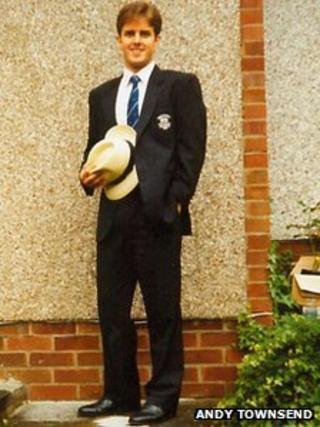 A former volleyball paralympian who took part in the 1992 games in Barcelona will carry the Olympic torch when it visits Bristol as part of its UK relay tour.
Andy Townsend, from Warmley, South Gloucestershire, will be carrying the flame through Longwell Green on 22 May.
The 39-year-old, born with a deformity in his right leg, had a below-the-knee amputation before he was three years old.
He said the experience of being a torchbearer was "quite surreal".
Mr Townsend was nominated by his mother, Gill, who said he had been "an inspiration to children, young people and adults all through his life".
'Really exciting'
"Obviously part of my nomination was for something I did 20 years ago," he said.
"It was great 20 years ago with all the hype then. A lot of things have changed but the hype is there again now.
"It's going to be really, really exciting on the day. I'm taking the day off work, even though I'm not due to be carrying the torch until about 5.30pm.
"I know a lot of people who are going to be out on the streets as well, cheering and watching. It's going to be extremely exciting."
After his paralympic career ended, Mr Townsend competed at many international athletics events and threw himself into charity work.
He now fundraises and volunteers alongside managing the Lifeskills education centre in Bristol, teaching children and people with learning difficulties.
Mr Townsend is one of 8,000 people who will carry the Olympic torch when it arrives in the UK on Friday.
The relay begins its 8,000-mile journey around the UK at Land's End, Cornwall, on Saturday and reaches the Olympic Stadium in London on 27 July.
'Extremely nervous'
"I will be extremely nervous, extremely excited," added Mr Townsend.
"There are already a few thoughts going through my mind about what it's going to be like on the day. It's going to be extremely emotional.
"I'm not worried about dropping the torch, I can't think like that."
As a former paralympian, Mr Townsend said he was also looking forward to the Paralympic Games which takes place in London from 29 August to 9 September.
"Barcelona was the first big games for the paralympics," he said.
"Yes, I was really pleased to be involved with that but it has improved so much over the years.
"There are a lot of professional athletes out there now who put a lot of time and effort into it every day.
"When I was doing it I was fitting it alongside my own work commitments and university stuff at the time as well.
"It's a very professional set up and good luck to everybody taking part in both games."