Ed Sheeran gig in Bristol raises £40,000 for One25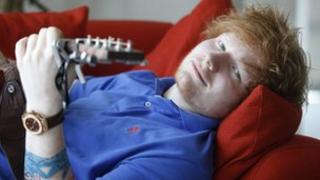 Singer Ed Sheeran will perform at an intimate gig in Bristol later which has raised £40,000 for a charity that reaches out to street sex workers.
Sheeran agreed to the event after one of the women One25 helps contacted him.
The young star wrote his award winning song The A Team about a woman in the sex industry.
"It's good to show insight that these people are real people with real emotions and they deserve the same charity work as anyone else," he said.
"There's a lot more popular charities that get a lot of attention," the singer added.
"And with certain subjects like this they're often washed over and people don't necessarily give them the attention they deserve."
Tickets were only available to those taking part in the charity's Give it up for One25 campaign by giving something up for 125 hours and hitting the £125 fundraising mark.
Louise Willott, who organised the event at The Fleece, said of Sheeran: "He had volunteered in Crisis in London. which is a homeless shelter, and he had met a woman who told him her story. Her name was Angel.
"He then went and did some more research about the issues and obviously he must have been moved and inspired to have written The A Team."
Ms Willott added: "The Fleece is quite a small venue - it only holds about 400, which makes it extra exciting as it's really intimate and Ed's not playing those size venues anymore.
"In total this has raised about £40,000 for the project. Its just going to give us such a boost.
"This is a difficult time for any charity. There's less money available and there's more competition for it, so to have one event raise £40,000 is just incredible."