Westmoreland House could be bought by Bristol council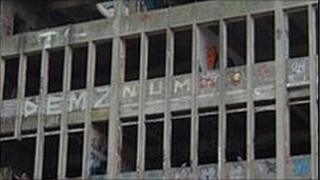 Plans to compulsorily purchase a derelict building are due to go before Bristol City Council's cabinet next week.
Westmoreland House - a derelict tower block and a 19th Century grade II listed carriageworks - has been empty for the past 25 years.
The buildings are owned by Comer Homes and several planning applications have been turned down.
Council officers recommend compulsorily purchasing them if negotiations fail.
A council spokeswoman said Westmoreland House, in Stokes Croft, would be the subject of a compulsory purchase order if negotiations with Comer Homes to buy it privately failed.
The report to the cabinet meeting on 31 May recommends acquiring it within two years.
The authority would then seek a developer to fund its purchase, either by negotiating with the owner or through compulsory purchase.
"It is acknowledged by all that, beyond this, development of the site is still some years away," the council spokeswoman said.