Bristol City stadium opponents in harassment claim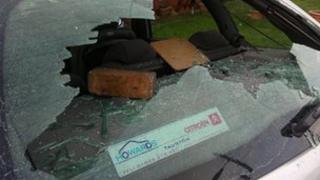 Opponents of a proposed football stadium in Bristol had bricks thrown through their windows and their tyres slashed, a BBC investigation has found.
Bristol City FC wants to build a new stadium at Ashton Vale but a town green application has held up the plans.
The man behind the town green application, the subject of a court anonymity order, also had his name painted on a wall and posted online.
Police urged anybody who had been harassed to contact them.
The 30,000-seater stadium was granted planning permission in 2009 but an independent inspector ruled the area should be made a town green a year later.
However, a Bristol City Council committee went against the recommendation and said only part of the land should be made a town green, which would have allowed the stadium development to go ahead.
The matter was referred to a judicial review where a judge in the civil proceedings said there was "convincing evidence of incidents of harassment and intimidation".
The council has since admitted defeat in the review, saying it will offer no defence in the case.
Two other opponents had bricks thrown through their windows at home, while others had their cars keyed and tyres slashed.
'Further retaliation'
Others said they had threatening notes pushed through their letter-boxes or received phone calls threatening bodily violence or damage to their property.
The BBC has obtained court papers, contemporary documentation, photographic evidence and spoken to numerous people to verify the claims.
One resident, who also wanted to remain anonymous, told the BBC that residents were afraid to call police "because further retaliation was expected".
"Because it's a small community, names were easy to come by and the physical and verbal abuse started - cowardly and vindictive attacks designed to intimidate and force a withdrawal," said the resident.
"People started to feel imprisoned, afraid to talk to anyone. Old friends and family started to become distant.
"What kind of a city do we live in that someone seeking an independent review of a council decision needs anonymity for their own safety?"
On the online fans' forum OTIB, some members suggested the area should be cleared by "snipers" or sharpened "bamboo pits" put on the land.
This was reported to police who said no offence had been committed but they did say some criminal acts were investigated.
"Between February and November 2011 police received five reports of criminal damage in Silbury Road, all of which were thoroughly investigated," a spokesman said.
"There is no evidence to suggest that the offences are linked to objections to Bristol City Football Club's plans for a new stadium.
"We urge anyone who is a victim of crime or anti-social behaviour in the area to come forward and speak to us and we will fully investigate any incidents."
The football club and OTIB declined to comment.