Bristol council backs plan to buy Westmoreland House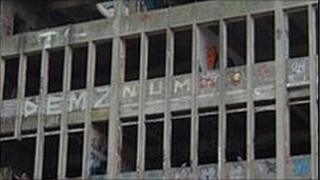 A plan to make a compulsorily purchase order for two derelict buildings Bristol has been approved by Bristol City Council's cabinet.
Westmoreland House - a derelict tower block and the neighbouring 19th Century grade II listed carriageworks - have been empty for the past 25 years.
The buildings are owned by Comer Homes who have had several planning applications turned down.
Bristol City Council wants to buy the Stokes Croft building within two years.
"It is acknowledged by all that, beyond this, development of the site is still some years away," a council spokesman said.