Pupil fall at Bristol's Fairfield School was 'accident'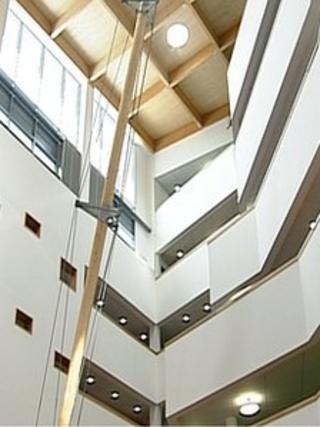 A 12-year-old boy who fell from a fourth floor school stairwell was injured in an "unfortunate accident", a report has concluded.
Bristol City Council carried out a "thorough investigation" at Fairfield School following the incident.
The council said the school, which opened in 2006, complied with building regulations despite parents raising concerns over the design.
The report recommended a risk assessment review be carried out.
The authority said the review should be carried out "with input from pupils to ensure they take personal responsibility for agreeing acceptable behaviour".
The boy, who fell in February, suffered injuries but survived
'Extremely distrubed'
In March, a series of letters sent to the school shortly after it opened expressing concerns about its design were released following a Freedom of Information request.
One parent wrote to the council to say they were "extremely disturbed" after visiting the school.
Another said: "It is very clear that the balconies above the central atrium and the stairwells are unsafe."
Head teacher Catriona Mangham, said the school would now "take forward" the report's recommendations.
"This report confirms appropriate action was taken at the time of the incident by Fairfield High School," she said.
"Our pupil has made a successful return to school and we will continue to work closely with his family."
The report has been submitted to the Health and Safety Executive.