Bristol City Council criticised by Tories over graffiti festival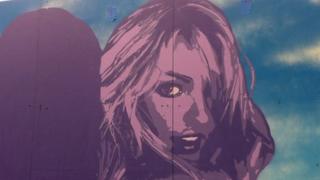 Bristol City Council has been criticised for its support of a street art festival featuring graffiti.
Conservative Richard Eddy said the Upfest event would encourage more people to illegally deface property.
About 250 people took part in the event over the Jubilee weekend. It is run by volunteers but supported by the Liberal Democrat administration.
Cabinet member Guy Poultney said the city had an "international reputation" for street art.
He said the event would "inspire people to follow more legitimate ways of putting their art out there."
'Magic bullet'
Mr Eddy is planning to table a range of questions at a full council meeting on 19 June which also query how beneficial such events are to the local economy.
He expressed fears that "the Lib Dems seem to have become fixated upon street art as some kind of magic bullet to solve our urban ills and provide a quick fix to economic regeneration".
However, Mr Poultney said the festival has raised more than £20,000 for NACOA, a charity which supports children of alcoholics and "it was well-liked by the local community.
He said: "The street art thing has come from the people of Bristol. People in Bristol like street art - Banksy is a Bristol institution.
"It's something for which we have an international reputation."