Bath's ceremonial mayor Andrew Furse takes office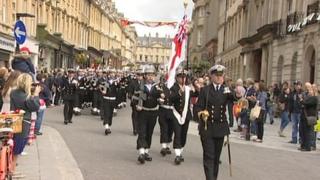 The crew of HMS Somerset have marched through Bath to mark the city's new ceremonial mayor taking office.
The Band of the Royal Marines took part in the procession along with the sailors from Somerset who have the freedom of the city.
Lib Dem councillor Andrew Furse was sworn in as mayor at Bath Abbey.
He said: "It's keeping that history and the post of mayor of Bath going. I just hope I uphold it [to the] best of my abilities."
Mr Furse is the 785th person to receive the title.
"I've got the faith and encouragement from those around me, so it'll be an interesting and busy year ahead for me, I'm sure," added Mr Furse.
Mr Furse has said his main priority will be helping to tackle youth unemployment in the city over the next 12 months.