Bristol Harbour Festival 2012 is officially launched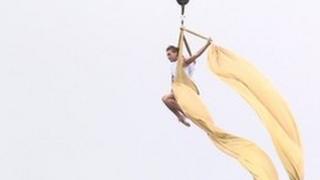 The Bristol Harbour Festival, said to be one of the biggest free events in the country, has been brought forward by a week.
Organisers said the event, in its 41st year, has been moved, partially to avoid a clash with the London Olympics.
It is due to run from Friday 20 July to Sunday 22 July. Last year almost 250,000 people attended.
Event manager Mike Richmond said the date had been moved "for a number of reasons".
Mr Richmond said: "Some are logistical - the tide times, access in and out of the harbour is quite important for the 200-odd vessels that attend to be able to get in and out at safe times of the day.
"But also with one eye over the shoulder at the Olympics, it made sense to look at these particular dates."
Liberal Democrat councillor Guy Poultney said the festival "gets people out and spending their money and having a good time".
"It's good for productivity in the city, it's good for getting the economy moving," he said.
"The impact on the city should be significant."