Bristol family campaign after toddler dies in car fall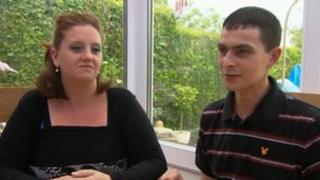 The family of a toddler who died after falling from a moving car want to make using child locks compulsory.
Two-year-old Levi Brailsford, from Bristol, unclipped himself from his car seat and let himself out of the car whilst his grandmother was driving.
He died from serious head injuries sustained in the fall.
His parents Kevin and Andrea Brailsford are now collecting signatures in a campaign to make the use of car child locks compulsory rather than optional.
'Hold on'
"It has given us something to focus on, instead of just completely focusing on our grief," said Andrea Brailsford.
"It doesn't mean we are not still grieving in our own way for him, but it gives us something to hold on to.
"It keeps him alive in some ways as well."
The Royal Society for the Prevention of Accidents said such incidents were very rare.
In this case, they said they did not feel more legislation would be useful and believe it is more a question of educating parents about car seats and door locks.
But Kevin Brailsford said they will do what they can to make more people aware of the possible danger of not using the child locks.