Petition calls for 'simpler' elections in Bristol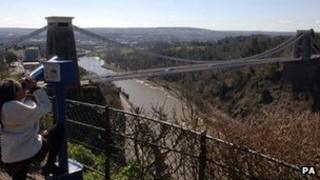 Bristol is surrounded by councils that ask their voters to turn up once every four years to exercise their democratic right.
But in the city, voters are more familiar with their polling stations.
Bristol City Council currently elects by a system known as "thirds".
It means a third of the seats are up for three successive years followed by one rest year.
To add a further layer of complexity, each ward has two councillors and these are chosen one at a time.
It means that voters in a given ward vote twice within four years under the "thirds" system.
Confused? Many are according to Labour and Conservative politicians, who want to shift to the system of all-out elections every four years.
They also want to see elections for councillors coincide with the vote for the Bristol mayor.
The two parties have started an online petition calling the current system "costly, confusing and contrary to stable local government".
'Healthy for democracy'
Peter Hammond, the leader of the Labour group, said: "Bristol's new mayor needs to work with local community representatives confident that they're all there for long enough to see things through."
But others argue a regular through-flow of councillors is healthy for democracy, ensuring the make-up of the council benches reflects changing public opinion.
Both the Greens and the council's ruling group the Liberal Democrats actually support a system that is not possible under current legislation - to have half the seats up for election every two years.
The Lib Dems are also pushing for a boundary review to even out the size of wards - which would trigger a one-off all-out election anyway.
Jon Rogers, the deputy leader of the Liberal Democrats said: "We are very carefully looking at all the options…but to have all-out elections without a boundary review would potentially be very unfair.
"Some Liberal Democrats are moving towards all-out elections but it's not a clear-cut decision.
"There are pros and cons and I'm not sure whether it's right for Bristol in the context of having a mayor.
"I am genuinely sitting on the fence on this because I do want to listen to all the arguments."
Councillors will decide the issue at a meeting this September.
Two-thirds will need to back the change for the vote to pass and for that to happen, some Lib Dems would have to ditch the old party line.
In the meantime, the council is calling on the public to have their say on this issue at the heart of democracy in Bristol.