Bristol Labour Party selects city mayor candidate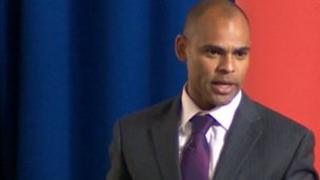 The Labour Party has announced Marvin Rees as its candidate for the Bristol Mayoral election taking place in November.
Mr Rees was selected in a ballot of Bristol Labour Party members from a short-list of five candidates.
"I am delighted and humbled by the support of Bristol Labour Party members in selecting me as their candidate," he said.
"I am determined to lead the change which Bristol has voted for."
The other candidates on the short-list were Helen Holland, Peter Hammond, Kelvin Blake and former Labour MP Dan Norris.
During this year's election in Bristol, Labour won 36% of the vote, although the Liberal Democrats secured the leadership of the city council.