Hot air balloon with bus-sized basket tested at Ashton Court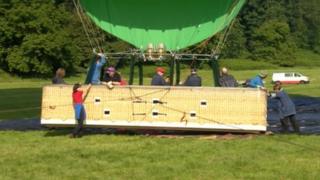 Tests have been carried out on a hot air balloon capable of carrying 32 passengers.
The balloon, which could become a record-breaker, has been designed by Bristol-based Cameron Balloons for a customer in France.
Company founder Don Cameron said its basket was about as big as a bus.
A tethered flight was conducted at Ashton Court estate before the balloon was packed up for more work at the Bedminster factory.
Mr Cameron said the 750,000 cubic foot balloon is made from more than 3,300m (3609yd) of fabric.