Arnos Vale cemetery gets £500K to secure its future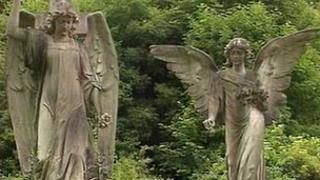 Arnos Vale cemetery in Bristol which was saved from threat of commercial development has been awarded £500,000 to secure its future.
It opened in 1839 as a garden cemetery and is home to 25 Grade II or Grade II* listed monuments.
A £5m restoration project on the 45-acre site which included a new heritage, wildlife and education centre was completed in 2010.
The government cash will help the trust meet future day-to-day running costs.
Among the most famous of the monuments at the cemetery is that of 19th Century Indian reformer Rajah Rammohun Roy.
'Asset for future generations'
He challenged traditional Hindu culture and fought for women's rights, including an end to "sati", the practice of widow-burning.
He was visiting Bristol in 1833 as a guest of a Unitarian minister when he suddenly became ill and died.
There are more than 60,000 graves and monuments at the 45-acre cemetery.
Among them are more than 600 British and Allied soldiers, sailors and airmen from both World Wars and older conflicts, including three recipients of Britain's highest award for valour, the Victoria Cross, and veterans who survived the battles of Trafalgar and Waterloo.
"The Catalyst award will enable Arnos Vale Cemetery Trust to build a secure sustainable future for the Cemetery," said Juliette Randall, the trust's chief executive.
"Although the cemetery was saved by the restoration project, the trust is now undertaking the hard work of ensuring it has the proper financial bedrock to allow the cemetery to thrive and be an asset for future generations of Bristolians."