Future of Filton airfield considered by planning inspector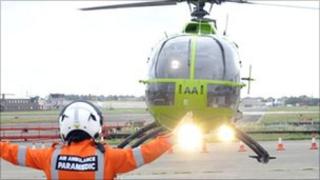 The future of Filton airfield near Bristol is being considered by a government inspector.
South Gloucestershire Council wants to build 2,500 homes on the site, which is due to close in December 2012.
But an agreement has also been reached to allow the Great Western Air Ambulance helicopter to stay at the airfield after its closure.
The public inquiry at Kingswood Civic Centre is expected to last for another 10 days.
Owners BAE Systems announced in April that it was selling the airport as the land is no longer commercially viable.
The company said it was committed to dedicating an area of the airfield to the air ambulance and the police helicopter.
John Christensen, chief executive of the Great Western Air Ambulance Charity, said: "We actually have a future now and we can see where we're going and we can carry on delivering vital life-saving services."
BAE has also revealed it is in detailed discussions with the Concorde Trust and the Bristol Aero Collection museum to build a Concorde museum on the site.