Woodspring Wings model aircraft show cancelled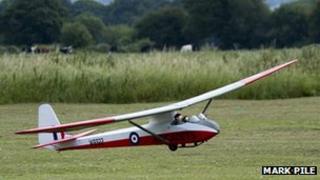 A model aircraft show near Bristol has been cancelled because the site is waterlogged.
The annual Woodspring Wings Show was due to take place at Yatton Airfield on 7 and 8 July.
But show chairman Warren Smyth said the ground would not dry out in time for the event and would not be able to cope with the traffic.
He said similar conditions in 1998 saw vans and cars stuck in the mud and he wanted to avoid a repeat.
Thousands of model aircraft enthusiasts had been expected to attend the event.
Mr Smyth said: "It was a very difficult decision for myself and the rest of the committee to make but our fields are sodden and have only a thin crust of turf on top with many feet of peat bog below.
"This is a unique feature of the Somerset coastal landscape but does give us problems in very wet weather."