Four-day Bristol Slapstick Festival will go ahead after gig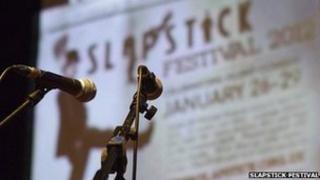 The future of of a four-day comedy and silent film festival has been secured following a fundraising gig.
Organisers of the Bristol Slapstick Festival were considering cutting the festival to two days due to a funding shortfall.
The annual event costs £90,000 to run and grant applications were unsuccessful.
Festival director Chris Daniels said more than 1,000 people attended Sunday's fundraiser at Colston Hall.
The gig, called Stand Up for Slapstick, featured comedians such as Barry Cryer, Marcus Brigstocke, Lucy Porter, Rory Bremner and Arthur Smith.
Mr Daniels said the response from the audience had been "fantastic", especially considering the event was on the same night as the England v Italy Euro 2012 match.
The amount raised was currently being calculated, he said.
Mr Daniels said of the gig: "We're delighted with the response, the Slapstick Festival will definitely be happening, there will be a return to the four-day festival.
"There may be some smaller cuts but Bristol can expect its festival to return in January."