Bristol City Council plans office accommodation revamp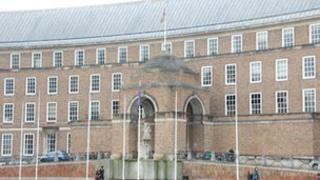 Bristol City Council is looking to borrow up to £70m to make major changes to its office accommodation.
The Liberal Democrat-run council said it wanted to reduce the number of office buildings it currently occupies from 35 to 10.
It is looking to turn the vacated buildings into schools, nurseries and housing.
Councillors are set to approve the Bristol Workplace Programme at a meeting on 4 July.
It hopes to offer its 5,000 staff "significantly improved" flexible working arrangements, made possible by mobile working using new technology.
Members of the city's cabinet are also being asked to approve the refurbishment of the current council house on College Green, which would improve facilities for the public.
Five smaller drop-in centres are proposed across the city in areas where there is the greatest demand for its services.
The report also suggests staff should make better use of public transport when travelling on council business.
It estimates the investment will be repaid with a break-even point in 2026/7.
Councillor Jon Rogers, deputy leader of the authority, said: "The plans are built around saving money by spending much less on out of date, wasteful buildings and freeing us from expensive leases.
"These plans will require an investment up front to achieve these savings over the next 30 years.
"This is the council acting in the long-term interests of the city, just as families take the long-term view when they buy their home and take out a mortgage."
But the Conservatives on the council are sceptical about the size of the loan and the timing of the announcement.
Councillor Geoff Gollop, the finance spokesman for the Tories, said: "These are massive changes and they're being proposed at a time when we know the council governance is going to change within six months.
"Only a few years ago it was proposed to locate staff in South Bristol - an area where we need to create work and jobs - and now they're looking at relocating to a different place.
"They're looking at a massive capital outlay up front with a very small cost-saving on an annual basis and a payback period that is a long one.
"We're looking at something here where there is no guarantee that we're actually going to save money in the long-term."