Whiteladies Picture House: Plan for flats and gym deferred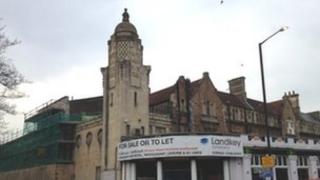 Plans to turn a derelict cinema in Bristol into flats and a gym have been deferred by councillors.
A meeting of Bristol City Council's development committee had been recommended to approve the application.
But members want to visit the site ahead of next month's meeting before making their minds up.
Campaigners hoping to have the building brought back into use as a cinema and arts centre have collected more than 1,600 signatures on an e-petition,
The Whiteladies Picture House closed in 2001 and since then a number of different plans have been put forward.
The grade II-listed building, on Whiteladies Road, was owned by Odeon, which ran it as a three-screen cinema before selling it in November 2001 - almost 80 years after it opened.
It has remained empty with the seats ripped out and much of the electrics and plumbing stripped.
Over the years various plans for the site have been mooted including a gym, flats and shops but so far none has come to fruition.