Bristol's St Pauls Carnival: Organisers use year out to look at finances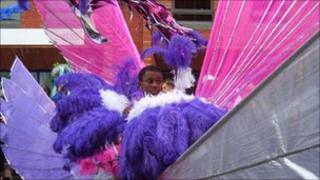 Organisers of the St Pauls Carnival in Bristol say they will be using the year out to take stock of its funding.
The procession was due to take place this weekend but was cancelled in April following uncertainty over the safety of participants and spectators.
In February organisers had warned the popular event would be "scaled-back" due to a lack of donations.
Carnival chair Rebecca Gibbs said there had been mixed feelings within the community over the cancellation.
"Most people I've spoken to understand the need to restructure and reassess how to do things," she said.
"But in the year which celebrates the independence of Jamaica and Trinidad and Tobago there are a few people from the Afro-Caribbean community who are disappointed the event isn't going ahead and that's understandable.
"We're using the opportunity to step back and look at the event's funding.
"Each year since I've been involved has been a game of catch up as the event has grown," Ms Gibbs added.
The colourful carnival has been held in Bristol since 1967, with a break in 2006 when its board was restructured.
In 2011 some 90,000 people attended the event.