Family in tribute to Bristol stabbing victim Judith Ege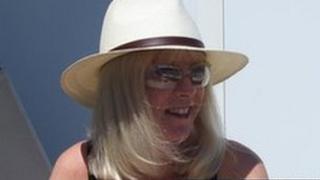 Tributes have been paid by the family of a retired special needs teacher who was stabbed to death in Bristol.
Judith Ege, 58, died after being found with stab wounds at a property in Highbury Road, Horfield, on Saturday.
In a statement, her family said: "A gifted and talented special needs teacher, she taught those children the rest of society had often written off."
Barach Bandavad, 38, has been remanded in custody after appearing at Bristol Magistrates' Court charged with murder.
Mrs Ege's family added that she had dedicated her life to helping children with complex special needs.
"Although retired, such was her ability and talent that she was persuaded to come out of retirement to help in the restructuring of a special needs school in Kuwait where she would have been teaching special needs pupils and special needs teachers.
"She will be sorely missed by those children she taught and those she was going to teach.
"Family and friends were in abundance and despite a very challenging work life no birthdays, weddings or other celebration was ever missed or forgotten. She made time for everybody and was happiest when making other people happy."
Mr Bandavad is due to appear at Bristol Crown Court on Friday.