Bristol leaders welcome extra powers deal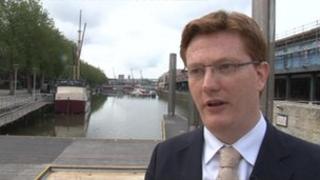 Bristol leaders have welcomed a deal which will give the city more powers and the ability to borrow up to £1bn to spend on major projects.
Bristol is one of six cities in the country to be given significant extra powers and money.
This is in return for promises to bring down youth unemployment and speed up regeneration and economic growth.
Chief Secretary to the Treasury Danny Alexander confirmed the measures during a visit to Bristol.
The six "city deals" are for Newcastle, Birmingham, Bristol, Leeds, Nottingham and Sheffield, with deals for Liverpool and Manchester already agreed.
During his visit, Mr Alexander also gave financial backing to the Greater Bristol Metro project, which would see the Portishead and Henbury Loop rail lines reopened.
He said that the deal meant Bristol would have "new powers to shape and drive economic development".
The deal will mean Bristol City Council will be able to borrow £1bn during the next 25 years against growth in business rates.
'Strings attached'
It will also see more apprentices, through a skills plan geared around the Temple Meads Enterprise Zone, and over £2m of investment to encourage more backers from private business.
A board will also be set up to manage all the public property in the city - more than 180 government assets and £1bn of council property.
Barbara Janke, Liberal Democrat city councillor and former leader of the authority, said there were "very big strings attached" to the deal.
"I think it's very encouraging we're going to have some resources released," she said.
"However, it does really still feel that central government has got a firm hold on all the strings and we really would like to feel that we in Bristol, with the most successful economy of any core city, are very well placed to deliver this.
"We feel that the civil servants particularly find it hard to give control locally and so there are very big strings attached to this deal.
"Nevertheless we feel that we can take advantage of it and bring real benefit to the city."
Tim Kent, a Liberal Democrat council cabinet member, said: "I think we have achieved something quite significant, particularly if you look around the package regarding the enterprise areas," he said.
"The retention of business rates there will mean we can really front load investment into transport, into infrastructure and into protection from flooding.
"This could really revolutionise our ability to be able to deliver those extra jobs for this region.
"And so this will be a matter of whether people actually have a job in five or 10 years time or not, and will make a real difference to every family."