Fears as psychiatric Clinic 7 in Bristol shuts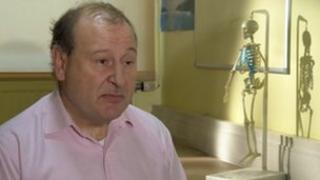 A South West psychiatric clinic which takes on some of the region's most complicated cases is to close because of cuts to the budget.
Clinic 7, at Southmead Hospital, cares for patients who have not responded to treatment from other practitioners.
But the clinic, which looks after about 150 people a year, is set to end because of University of Bristol cuts.
Dr Andrea Malizia now fears some of his patients may be a risk of taking their own lives.
His post will be closed because the university is ending its funding.
He said: "It's possible suicides will go up as a result of the clinic closing.
"It's closing a unit that provides treatment and help when others have given up."
The university said the redundancy was part of 15% savings it had to make.
As part of the university's research into psychopharmacology, it has previously funded consultants to carry out work through Clinic 7 with Avon and Wiltshire Mental Health Partnership NHS Trust (AWP).
AWP provided some administrative support and consulting space for the clinic.
A statement from the university said: "Dr Malizia, who is the only clinician involved in the provision of this clinic, is being made redundant from his role as consultant senior lecturer by the University of Bristol.
"The psychopharmacology clinic has not been an NHS or University of Bristol commissioned service and as there is no other consultant funding for it, the clinic will close in September 2012."
A spokesman for AWP said: "We will be working with Dr Malizia and the referring GPs to ensure that by the time the clinic closes in September, individual plans are in place which meet the needs of patients currently under the care of the psychopharmacology clinic."
Patient Jade West, from Bristol, said: "Our GPs couldn't cope with us that's why we were referred to Clinic 7 in the first place.
"Clinic 7 stepped in - it basically saved my life."
The clinic is able to prescribe stronger medicines than those available to GPs. It also advises GPs on medical strategies to help patients.