Coalpit Heath school reopens after suspected chemical incident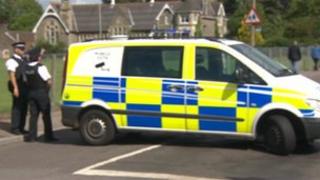 Children at a school near Bristol which was evacuated in a suspected chemical incident have returned to classes.
Emergency services were called to The Manor C of E Primary School in Coalpit Heath at 13:15 BST on Monday.
An investigation into what caused pupils to become ill is continuing, but it is thought to have been a virus.
A message on the school's website said there was no problem with the building and it would be "open as usual" on Tuesday.
Six children were sent home and 34 were treated for nausea and headaches on Monday.
Headteacher Hillary Eade said the school boiler had now been checked and the building had been deep cleaned.
'Feeling dizzy'
She said: "We had several children complain of feeling unwell during the morning and we sent those children home.
"One child at lunchtime was a little bit more serious than the others and we contacted his mother, but while she was en route his condition deteriorated and so we called an ambulance.
"By the time the first responder had come we had several more children with headaches, nausea and feeling dizzy.
"At the time they thought it could be carbon monoxide poisoning due to the symptoms being presented, but we are 100% sure it's not that."
Dr Phil Cowburn, from the Air Support Unit which attended the scene, said that although the children had potentially worrying symptoms, nothing serious was identified.
"We checked for any signs of chemical exposure, any significant exposure to carbon monoxide which could cause these children to be unwell," he said.
"We are happy that they had no signs of anything worrying."
All children were allowed home with their parents.
Station manager Steve Imrie, of Avon Fire and Rescue Service, said an investigation was under way to determine the cause of the sickness.
"It's been a fairly large, multi-agency event with fire ambulance, police and local authority working together," he said.
"At this stage we still can't put our finger on what the actual cause was."
The school has advised parents to keep their children at home if they are still feeling unwell.