Bristol could increase council tax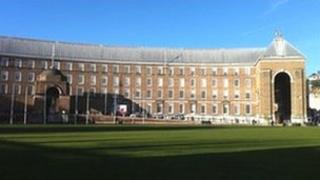 People living in Bristol could see an increase in council tax next year under plans being considered by the council.
The local authority is looking at ways to make savings including cutting benefits to people it considers non-vulnerable.
People who own a second home or an empty property could also face larger bills.
Deputy leader Jon Rogers said the Liberal Democrat council faced a £7.5m shortfall in its budget.
The government is handing control over council tax benefits to local authorities from next April and will cut the money it gives for council tax benefit by 10%.
'Squeezed financially'
Lynette Nigh, assistant director of Knightstone Housing Association, said she was concerned about how families would manage if the council tax changes were brought in.
"All families are being squeezed financially at the moment because of the rises in the cost of living," she said.
"But families on lower incomes are also being particularly affected by things like the freeze in child benefit, the increases in the deductions that are made from their housing benefit for non dependants, the changes that are being made to working tax credits.
"A typical family living in Bristol who's on benefits will be affected by all of those."
'Never easy'
Mr Rogers said the authority was starting a consultation process.
Households with disabled adults or children, low income pensioners, lone parents, people with children under five and carers were considered "particularly at risk", he said.
"One of the proposals is to say 'these people we must protect'," Mr Rogers added.
"But there are others who are not in such a vulnerable situation, might be on Jobseekers Allowance or other similar benefits, and it may be we're going to be asking them to pay a little bit more.
"It's never easy trying to make the budgets meet at this time of the year but we're really keen to try and keep costs down for all council tax payers, but also make sure that ends meet and we can't live beyond our means as a council."