Redfield residents angry at corridor fire safety rules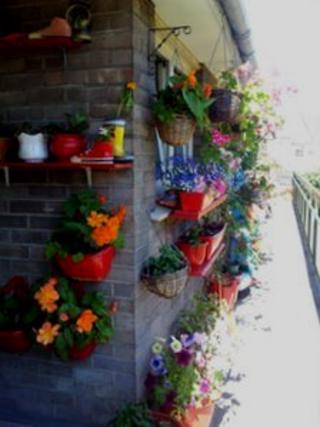 People in sheltered accommodation in part of Bristol have said they are furious at being told to remove plants and pictures from communal corridors.
The residents in Redfield said the items brightened up their days.
But Bristol City Council said they were a fire hazard and that it was responding to new rules on fire safety which it is rolling out.
The government published new national guidance last year on keeping communal areas in blocks of flats clear.
Jan Bartlett, 72, who lives at Princess Royal Gardens, said she had about 50 potted plants on the communal balcony outside her flat and would not be moving them.
Her two neighbours also have plants on the balcony.
"I'm dismayed because I've done an awful lot of volunteering in this community and I've just retired and I was looking forward to retiring and being able to look after my plants," she said. "Now they're taking that away from me.
"We even have to get rid of the door mat because that's a fire obstacle. It's just going berserk really. Only three of us walk along this balcony... apart from the postman. There's plenty of room there to get out."
Iris Birchwell, 72, who lives in a flat below, said: "We've been told we need to take the pictures down off the walls which we put up to brighten the place, otherwise it would be so dull like a prison.
"The flowers over there (on the balcony) don't just benefit the people who live there, they benefit the people living opposite that see them every day."
A council spokesman said it was consulting with residents to explain why it was asking them to remove items from the corridors.
"We fully appreciate that some residents enjoy personalising the area of corridor outside their flat with plants or other objects," he said.
"And placing furniture, pot plants and other items in the space outside a flat does not present any problems ordinarily.
"However, the issue comes when that space is transformed into an escape route for all residents in the block.
"Fire can bring thick smoke and a pot or other object, knocked on to the floor, becomes a hazard for everyone trying to evacuate.
"This is especially an issue where elderly residents or residents with disabilities are involved.
"The safety of residents has to come first and all objects which could hinder evacuation in the event of a fire, or even provide fuel for a fire, as the fire and rescue service notes, have to be removed from corridors."