Father of Aaron Burgess visits River Avon in Saltford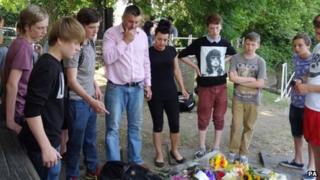 The father of a boy whose body was recovered from the River Avon between Bristol and Bath has visited the scene.
Aaron Burgess, 14, was swimming near Saltford Weir on Tuesday when he got into difficulty and disappeared beneath the surface.
Police diving teams recovered a body, which is yet to be formally identified, about six hours later.
Aaron's father Jay Burgess visited the site where his son's friends have been gathered for most of the day.
Accompanied by his partner Carrie Valentine, Mr Burgess, 35, chatted with Aaron's friends before looking at the cards and flowers that were left for his son.
A message placed by the Weir by Mr Burgess earlier read: "My beautiful 1st born son, always acting the fool, chip off the old block, missing you loads, see you when I get there, Dad x"
'Happy-go-lucky boy'
Mr Burgess said he was too upset to talk but wanted to thank everyone for their support.
Before leaving, he said: "It's like I put in the card really, he's a chip off the old block. That's all can say."
Flowers have been left at Saltford Weir and tribute messages posted on social networking websites.
David Turrell, the executive headteacher of Sir Bernard Lovell School, where Aaron was a student, said the school was "deeply sorry" to hear of the tragedy.
"Our thoughts at the moment are with family and friends," he added.
"Aaron was a very enthusiastic, popular, happy-go-lucky boy who will be deeply missed at the school."
Mr Turrell also encouraged any students in need of support to visit Cadbury Heath Youth Centre.
Connor Wiltshire, 14, Aaron's best friend at school, said he tried to save him by paddling over on an inflatable.
"I saw him fall under and I turned to a man and he had a lilo and we jumped in and tried to save Aaron but almost as we got to him to help it was too late," he said.
"People around us were ignoring our cries for help, I think they thought we were playing."
The coroner has been informed.