Dewani honeymoon murder: South Africa trial postponed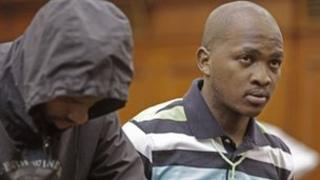 The trial of a man accused of murdering new bride Anni Dewani in South Africa has been postponed for assessment of his ability to concentrate.
Xolile Mngeni was due to go on trial on Monday at the Western Cape High Court, together with Mzwamadoda Qwabe.
Any trial of Mr Mngeni will not now happen until 13 August or later.
Proceedings to extradite Mrs Dewani's husband Shrien, from Bristol, to South Africa where he is also accused of her murder, will resume on Tuesday.
Mr Mngeni, 23, and Mr Qwabe, 25, are charged with killing Mrs Dewani, who was shot when her taxi was hijacked in November 2010.
Brain tumour
Mr Qwabe's lawyer will attend court on Friday to determine whether it is also necessary to postpone proceedings against his client until 13 August.
The courts have previously been told that Mr Mngeni has a malignant brain tumour.
A spokesman for the Western Cape's National Prosecuting Authority said Mr Mngeni's lawyer had asked Judge Robert Henney for the postponement because his client is to be sent for observation by a neuro-psychologist on 1 August.
He said a previous report by a University of Cape Town oncologist who examined Mr Mngeni came to the conclusion that he was able to instruct his legal representative and understand the proceedings.
The spokesman said that if the new report did not contradict this finding, the prosecution would approach the Western Cape High Court Judge President John Hlophe to arrange for the trial to start on 13 August.
If the report contradicts the initial one, he said, there would be a pre-trial hearing on 13 August instead.
Proceedings to extradite Mr Dewani will be heard at Westminster Magistrates' Court.
Mr Dewani, 32, is accused of ordering the murder of his wife. He denies any involvement in the killing.
Taxi driver Zola Tongo, 31, from Cape Town, has admitted his part in the killing and has been jailed for 18 years as part of a plea bargain.