Hundreds of swimmers sign up for pool film in Bristol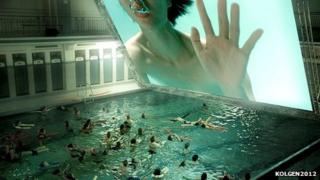 More than 400 swimmers have signed up to watch a film screening at a pool in Bristol.
Artist Herman Kolgen's film Inject is due to be shown on a giant screen at the Olympic-size pool at Hengrove Park Leisure Centre, later.
The 45-minute film depicts a human body, submerged in a tank, and subjected to building water pressure.
Aldo Rinaldi, from Bristol City Council, said it will offer a "unique, cultural and sports experience".
The Montreal based artist's work has only been screened at a swimming pool once before in 2010 in Rennes, France.
The two free screenings in Bristol, taking place at 21:00 and 22:00 BST, have been commissioned by Bristol City Council in collaboration with Picture This.
'Truly unique'
"The pool has three different tanks and you can alter the floor depth of two of them," said Jane Porter, from Picture This.
"So we'll have a deep middle tank - with about 90 floating aids available - and two shallow ends which are just over a metre deep."
The £35m leisure complex in south Bristol was officially opened in May.
"Hengrove Park Leisure Centre has already proved a massive hit with local people and this free installation will offer a truly unique, cultural and sports experience," said Mr Rinaldi.