New bus service for Bradley Stoke after route axed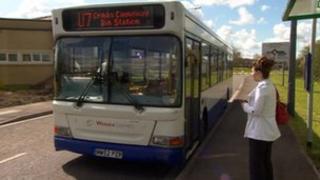 A new bus service is to be introduced in a South Gloucestershire town after an operator withdrew claiming the route was not financially viable.
Wessex Connect said it was ending its 73B, U7 and U8 services to south Bradley Stoke, leaving residents without buses to Bristol city centre.
Officers from the council's Integrated Transport Unit said a new 74 service would now be introduced.
The buses will run every 20 minutes during the week.
The service will run every 30 minutes on Saturdays and every hour on Sundays.
The Webbs Wood Road and Baileys Court Road areas, which would have been left without bus services from September, will be served by the new route, which will also link to Bradley Stoke town centre.
Councillor Rob Jones said the new 74 service would be "better" than the previous three routes that served the south of the town.
The old 73B service was temporarily subsidised by South Gloucestershire Council who said it would use the same funding for the 74 service, which will be run by First Bus from September.